SO excited to have finally found some lacy socks. You might be thinking,
really Ale?
And to you I say REALLY. Coolest thing since sliced bread. You shall see them in a future outfit chronicles!
Second
. Want to see something kind-of-creepy/pretty cool/interesting?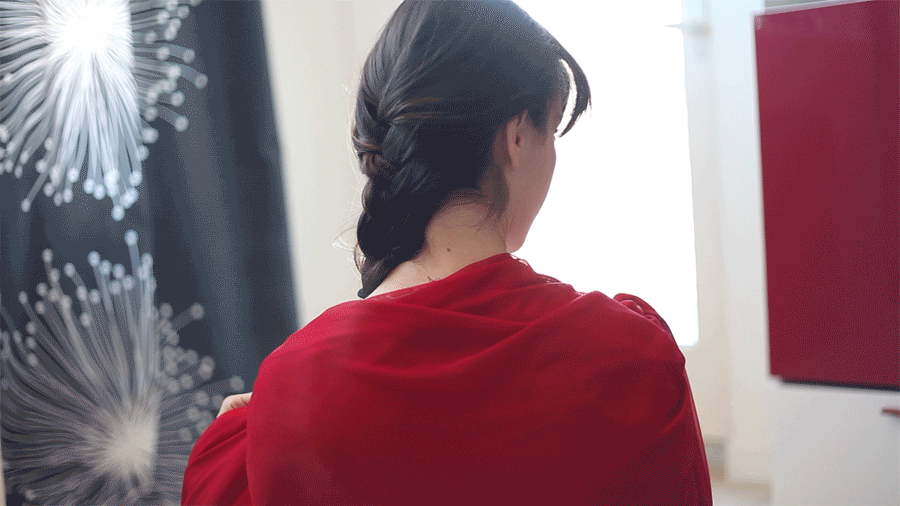 Crrraazy! These are called cinemagraphs. A moving photograph. How cool?! I told Jasmine we HAD to make one and so I grabbed some fabric, braided my hair, and decided to keep it simple. FYI - I'm wearing a tube top. Jasmine slaved away on photoshop with a tutorial we found online to make this work. I think we're going to try it again tomorrow :)
Third
. I might have to add "hair stylist" to my business card seeing how many people's hair I've styled lately. Love seeing the transformation :) Let's just say I was giving Jasmine a Pocahontas make-over.
Speaking of hair.
Day 1 of going shampoo free update
: I finally got some squeeze bottles for my new "shampoo" and "conditioner" mix and decided to start yesterday. I rinsed my hair in the shower and started squirting the shampoo mix (baking soda + water).
It doesn't lather
. This was so strange to me (though I kind of expected it), so I started squeezing
more
. When I had squeezed 1/4 of my bottle I thought "hmm... isn't this supposed to last a week?" Woops.
As I started to rinse my hair and massage my scalp, I started to feel it in my hair. Basically that I had something
other than water
in my hair. After that I rubbed a little bit of conditioner (VERY little) on the ends of my hair and scalp. I'm talking about
store-bought
conditioner. I cheated! But just with a little. Then I squirted some of the "conditioner" mix (vinegar + water) on the ends of my hair and one squeeze on the scalp. I rinsed the rest of my hair and finished my shower.
Results
: ocean hair. You know when your hair gets slightly stiff when you've gone to the ocean and the water dries in your hair? My assumption is that I got carried away with the "shampoo" mix. I'm going to do it again tomorrow and do a better job of rinsing it all out. BUT I will say I hardly had any dandruff!! And to those that are freaking out about vinegar and hair in the same sentence.. you will
not
have pickle smelling hair. In case you were wondering,
yes
-- hot cheetos and pickles go well together.
Oh, don't look at me like that
.
So that's the scoop on my week! Hope I filled your Friday with enough randomness ;) Ciao!